In this video I show you a glimps of what goes on at the Cannes Film Festival 2010.
Review of "You Will Meet a Tall Dark Stranger"

writen and directed by Woody Allen

by Shane Kester | Published: May 28, 2010
I had the wonderful privilege of acquiring an invitation to the new Woody Allen movie opening at the Cannes Film Festival 2010.  And since it's not due out until late September I thought I'd give you a quick review of what I thought of "You Will Meet a Tall Dark Stranger."  And before I begin, I have to tell you that I am a Woody Allen fan and make no qualms about being biased.
The film speaks from a very pessimistic point of view on the longevity of marital relationships, because in "You Will Meet a Tall Dark Stranger" relationships come cheap.  The story revolves around five couples (I had to take about 5 minutes to sketch a type of "cheating family tree" to come to that number.  It actually goes beyond that number but I think I'm safe to say that the story predominantly revolves around five couples and their interrelations) and of course one fortune teller who gets to say the title of the movie in her dialogue.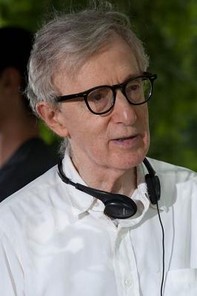 Now let me see if I can get it straight for you:  Helena (Gemma Jones) has been dumped by her husband Alfie (Anthony Hopkins) after 40 years of marriage to persue a more meaningful lifestyle, complete with a new batchelor's pad and sports car.  Their daughter Sally (Naomi Watts) sends her mother to a friend pretending to be a fortune teller to help her deal with the divorce.  Sally is married to a writter, Roy (Josh Brolin) with one sucessful novel to his name and has been rewriting his new book for years too unsure of himself to finish it.  He becomes infatuated by the beautiful young woman (Freida Pinto) living in the building directly across the street from him and through his creepy voyeurism happens to successfully seduce the woman into a relationship even though she is to be married in a couple of months time.  Roy's wife Sally gives into the flirtacious invitations and becomes romantically drawn to her art gallery boss Greg (Antonio Banderas).  Meanwhile, back at the ranch, Sally's mother and father both find new love.  Alfie finds himself a lovely blond bomshell prostitue named Charmaine (Lucy Punch) to loore into marriage with promises of a life of luxury that he cannot afford while Helena finds solis in a gentleman who's wife has recently passed away and is into fortune telling, seances and the occult.  I think I'll have to stop myself there because, trust me, I could keep going on about the guy in a coma and Sally's best friend having an afair with the guy she wants to have affair with but I think that's just going to confuse things more.
The actors were a tribute to their characters.  Gemma Jones, Anthony Hopkins, Josh Brolin, Naomi Watts, Antonio Benderas were tremendous as usual.  It was refreshing to watch and listen to Lucy Punch in her interview at Cannes and see that she isn't anything like her stereotypical bimbo character at all.
Freida Pinto (Slum Dog Millionaire) was beautiful as Dia, the woman across the street but her relationship with Josh Brolin's character was a bit too much for me.  Freida Pinto is young, beautiful and dainty while Josh Brolin is not.  It was like watching someone handling a flower wearing a catcher's mit.  Or I could just be jealous, who knows.
If you like Woody Allen flavored movies you will not be disappointed.  The story moves along at a good clip not leaving you much time to analyze the characters predicaments before they get into an even worse predicament.  The movie ends without a resolution in site for any of the characters leaving you exiting the theater thinking about how the fiasco will eventually work out.  It was a clever movie with a dark theme that was cheerfully executed… a Woody Allen movie for sure.